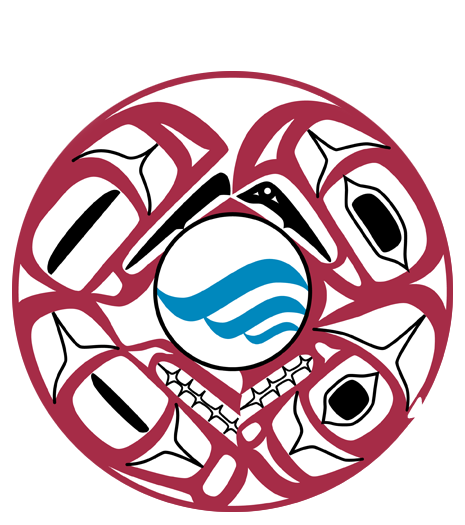 NANOOS logo Artist Tom Guthrie is a member of the Tsimshian Tribe whose art illustrates tribal and clan stories and their relationship to nature.
The logo depicts a Circle of Protectors. In the top left is Raven, in the bottom left Wolf. Eagle is in the top right and Killer Whale in the bottom right. Both Raven and Eagle are protectors of the sky. Wolf protects the land and Killer Whale the ocean. Together the four protect the entirety of the environment in which we live. They are also in a continuous circle of red, the color of life and their interconnectivity includes all of life including our own. Within the center of the logo are Tsimshian-stylized ocean waves, the very heart of NANOOS.
The stewardship of the oceans is behind all of the goals of the Integrated Ocean Observing System (IOOS), of which NANOOS is a part. IOOS goals also involve the protection and restoration of marine ecosystems, the maintenance of public health, the mitigation of natural disasters, and the sustainable management of our natural resources. Native Americans, the original protectors of the Pacific Northwest, are appropriately represented in the NANOOS logo that symbolizes the preservation of the coastal ocean ecosystem and the living beings that depend upon that ecosystem.
NANOOS Logos for Download
White Background

| | | | | | | |
| --- | --- | --- | --- | --- | --- | --- |
| | | 1892 x 2120 | | 6 1/4" x 7" @ 300dpi | | Posters, Brochures |
| | | 535 x 600 | | 2 3/4" x 3" @ 300dpi | | Letterhead, Small Prints, Large Web |
| | | 134 x 150 | | 3/8" x 1/2" @ 300dpi | | Web |
Dark Blue Background

| | | | | | | |
| --- | --- | --- | --- | --- | --- | --- |
| | | 1892 x 2120 | | 6 1/4" x 7" @ 300dpi | | Posters, Brochures |
| | | 535 x 600 | | 2 3/4" x 3" @ 300dpi | | Letterhead, Small Prints, Large Web |
| | | 134 x 150 | | 3/8" x 1/2" @ 300dpi | | Web |
Transparent Background

| | | | | | | |
| --- | --- | --- | --- | --- | --- | --- |
| | | 1892 x 2120 | | 6 1/4" x 7" @ 300dpi | | Posters, Brochures |
| | | 535 x 600 | | 2 3/4" x 3" @ 300dpi | | Letterhead, Small Prints, Large Web |
| | | 134 x 150 | | 3/8" x 1/2" @ 300dpi | | Web |